What readers think of Is
"I loved this book, it is full of mystery and puzzles. Is is a fantastic character. I want to keep it for my children to read one day." Ruby Vaughan Norris (Aged 12)
"Terrific! I really liked Is" Ela Griffiths (Aged 10)
"I loved 'IS'. It's a really good book. I couldn't put it down. I loved the way Is bravely talked back to Mr. Philips the school teacher. I loved the fact it was funny and educational. I learnt a lot about Brunel. I gave a copy of the book to my school, as it's a really good Book to have in the school library." Kitty Kilbey (age 11)
"This book is a little gem. I was enthralled from the opening lines and couldn't put it down. It is most unusual to find a children's novel with such depth of sensitive characterisation as this one. It is a good story too, but it is the drawing of the characters which puts this book in the 'extraordinary' class. I can't wait for more from this author." Dr. S. G. Hosier
"The book is education made fun. I found the experiment with the brick and a piece of string really fascinating. I liked Is because she was different and strong in a good way. There must be a 'Mr Philips' in every school which made the story real. I learnt a lot by reading a cool story. I like that. I think Brunel was quite cool too." Anaïs Kilbey (age 10)
"I've just finished reading 'Is' and really enjoyed it. I thought the relationship between Robert and Isabel was delicate and touching. I was afraid the ending would disappoint me, but it ended in just the right (and only possible) way. Brilliant!" Francis Wheatley
"Just a message to say thank you for the book you signed for Myrna - 'Is'. - She l-o-v-e-d it!! Initially she said it looked boring - this is partly because she is at an age wereby her response to anything is that anything is boring, and secondly because she still likes her books to be illustrated. The good news is that it was the best, most fascinating book she has ever read, and she saved the last three pages to read for quite sometime because she said she didn't want the book to end! So you must hurry and write another book - maybe a sequel." Gail - Myrna's Mom
"I was very pleased with the book. It captured my attention right away and it doesnt let you go until the very end. The story starts out with a new school girl called Isabel Williams mouthing off to Mr Phillips, a very nasty teacher, over a picture of a bridge and from then on things keep on getting stranger with Is. She eventually comes to believe that she is the incarnation of Isambard Kingdom Brunel - and then hits you with a twist ending that no one will see coming. Character development is very solid in Is, all the characters are all very real and likeable and all of them get a fair share of development, Isabel taking the spotlight of course. Overall a very good book that just about anyone can get into" Connor Curtis, Portsmouth
A letter from an enrthusiastic reader!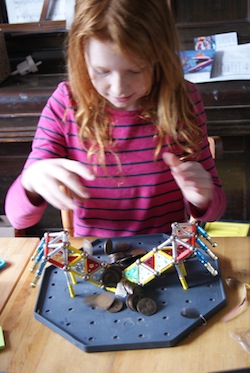 Dear Derek,
You recently visited my daughter Freya's school, Ysgol Bro Ingli, in Newport Pembs. Since your visit she has been completely inspired by you, Is and Brunel. I am reading her the story, and we are both loving it (she is really dyslexic).
She has been talking very enthusiastically about bridges, drwaing them and this weekend she has got her magnetic construction kit out and been building bridges of different designs, competing with her 15 yr old brother, to make the best one. They have been testing them by loading them with old (pre-decimalisation) pennies. She has just beaten the record by loading her latest design with 72 pennies, which she has worked out to be roughly 250g in weight (previous record was 50 pennies). I have attached a picture of it (and luckily caught one just as it broke) for you to see.
Mainly I thought you would like to know how much you have inspired her. We are going to Bristol this half term so have now got an itinerary to include a tour of Brunel's achievements. She is very bright and good at maths and science, but struggles to read and write because of her dyslexia. Who knows, she may be another Is in the making!
Many thanks,
Julie (Freya's mum)
School displays
'Is" has been the subject of a number of displays in schools too. Here are just two, from Neyland school and Spittal school in Pembrokeshire. Many thanks to the schoolchildren who contributed to them!